There in Spirit and in Glass: How One Couple Included Their Deceased Fathers in Their Wedding
Many little girls grow up dreaming about their future wedding, and part of that dream is having their dad walk them down the aisle. However, sometimes the reality of the big day is very different from the dream.
Many brides, sadly, have lost their fathers before their special day. Experiencing important milestones without loved ones is very difficult and often elicits a wide range of mixed emotions.
This is a story about how one couple figured out a very meaningful way to include their beloved deceased fathers into their wedding day.
I Walked My Father Down the Aisle

As Heather Galano and her fiancé, Greg Bennett, planned their wedding, they were faced with the difficult fact that both of them had lost their beloved fathers. For Heather, the idea that her father, Anthony, would not be at her wedding was profoundly upsetting. It was a lot to process, especially knowing she would never be able to share with her Dad the joy she felt to be marrying the love of her life.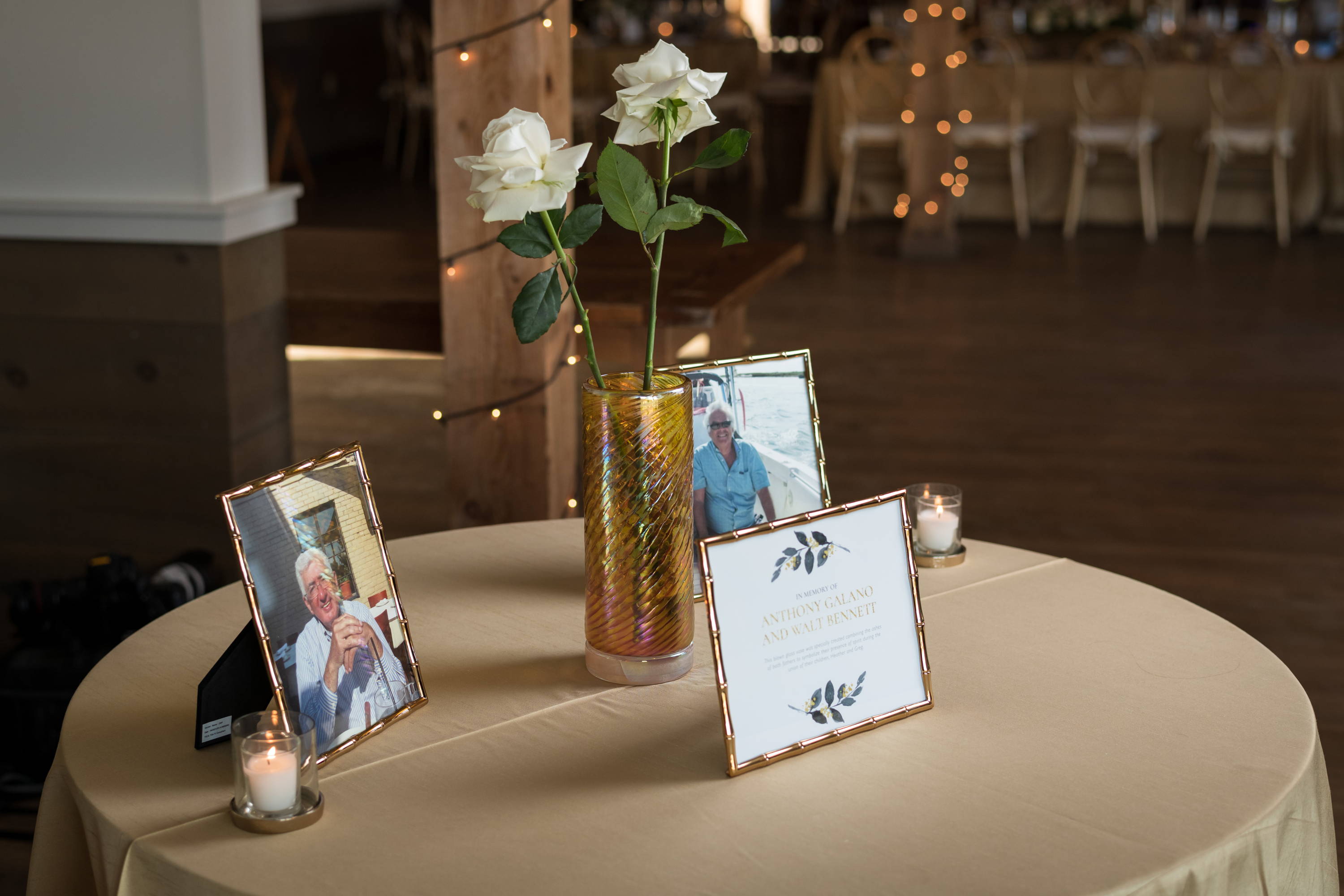 ---
Heather decided to search for a way to include her father, and Greg's father, Walt, in their wedding ceremony. One night, she had the perfect idea. Heather knew about a process in which you can have a loved one's cremation ashes woven into a beautiful piece of glass art. Heather decided that she wanted a glass bouquet holder made with her father's ashes that she would carry down the aisle. In addition, she wanted to create a glass vase that was made with ashes from both her father and Greg's father's ashes that could be proudly displayed at the reception.
"To not have the presence of my dad was gut wrenchingly sad, and having this piece made such a difference."
Weaving Memories Into Glass
Heather reached out to us at Celebration Ashes, where our Seattle-based glass artisans specialize in creating beautiful, one-of-a-kind glass keepsakes using the cremation ashes of their customers' loved ones. After reviewing our work online, Heather knew that these talented glassblowers could make her idea come to reality.
Mark from Celebration Ashes remarked, "I thought Heather's ideas were absolutely amazing. Even though we had never created anything like a glass bouquet holder, I was determined to work with our creative team to come up with a solution and make this happen." Celebration Ashes was incredibly honored to be a part of this plan. "Combining the ashes of Heather's father and Greg's father into a vase was beautifully symbolic of the two families becoming one."
"Mark really worked so hard at trying to make things happen, and he was so approachable and available," Heather tells us. "He seemed very invested in making my vision come true." Celebration Ashes collaborated deeply with Heather in the design and creative process, making sure the pieces were created just as she wanted them.
"Combining the ashes of Heather's father and Greg's father into a vase was beautifully symbolic of the two families becoming one." - Mark @ Celebration Ashes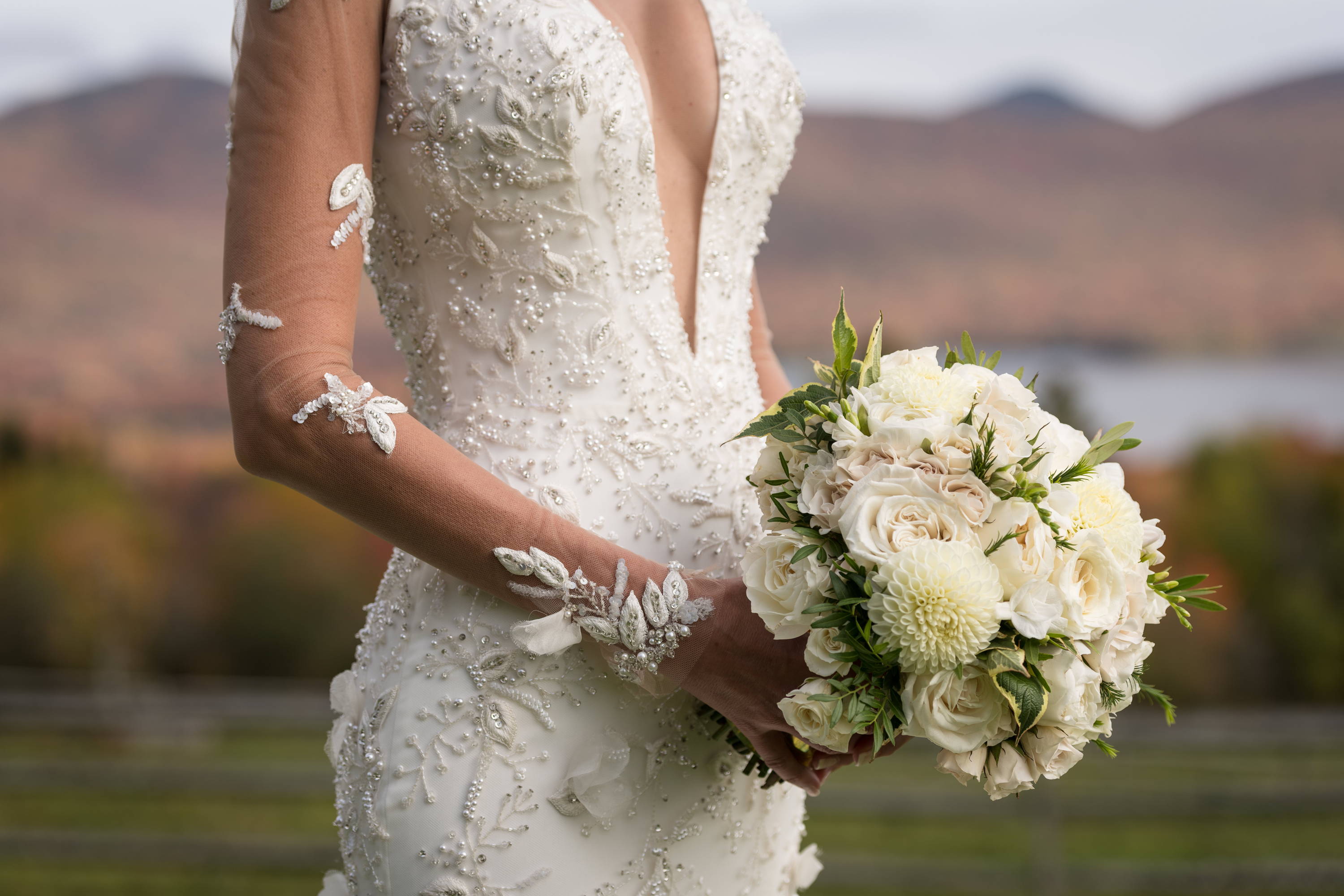 Heather says about her big day, "The wedding was insane! It was beyond perfect."
"Holding his ashes in the glass bouquet holder as I walked down the aisle really made it such that he was walking with me. I tear up just thinking about it."
What's more, she loves the fact that she now has the piece forever, "reminding me of the fact that he really was a part of our wedding and he really did walk me down the aisle... this is a feeling I cannot describe."
There wasn't a dry eye in the house when the officiant announced to the wedding guests that Heather would be carrying this bouquet holder down the aisle that was made with her father's ashes. "All of our guests thought this was amazing," she says. "Not to mention how it made my mother and brother feel." For Heather, this experience was "priceless".
Heather loved how unique her wedding day was because of these two glass pieces. She describes, "We had a memory table at the entrance of the reception with the vase, with 2 stemmed flowers in the vase representing each of our dads, alongside their photos. It really was beautiful!"
Heather couldn't be happier with how things worked out. "I feel as if I pioneered a new way to memorialize fathers for weddings, and Mark and Celebration Ashes made this happen," she says.
"I think all brides without their fathers would LOVE to have this as part of their special day but to then have this in their lives forever! It is unique, it is special and it is forever."
This is a very meaningful way to help incorporate our loved ones into our life experiences, even after they have departed.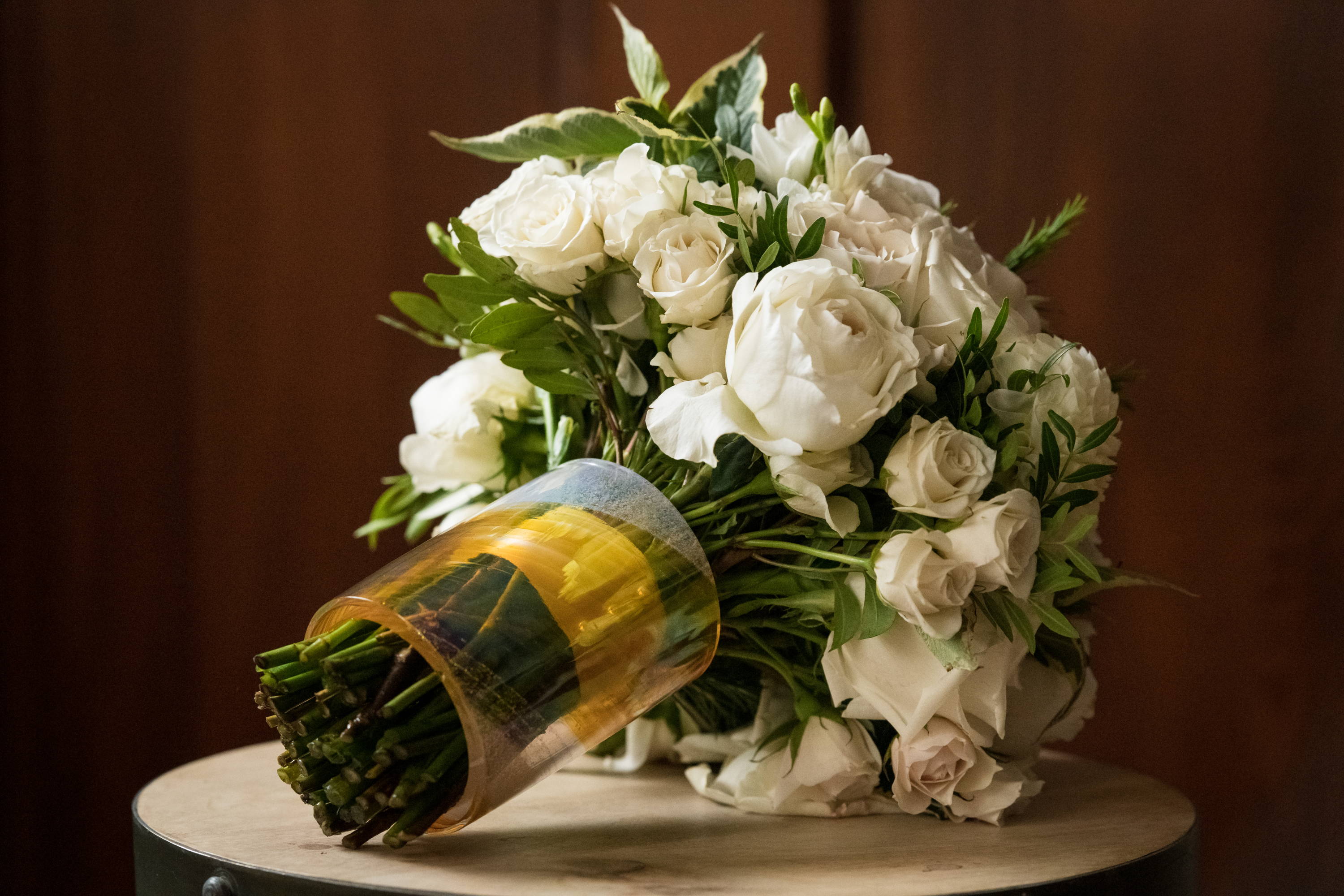 ---
---